My Sicily Journal
April 24th through May 12th, 2001
4/24/2001 - 4/25/2001
Well Nelson came up to Boston a basket case. Sick with bronchitis, over medicated, black eye from falling down, we put him in a wheelchair and flew out at 6pm.
It was a 6.5 hour flight to Milano on Alitalia. It went by fast with two movies and two meals. Saw 102 Dalmatians and the legend of Bagger Vance. We arrived at 7:30am on the 25th, and our connecting flight left at 10am to Palermo. Thank God Susan played maid as they put Nelson in a wheelchair and hauled him off with the others. We arrived in Palermo at noon and after a two hour hassle (don't ask), we got our car and headed out. It is a two hour drive along the northern coast from Palermo to Capo d'Orlando. The weather was warm, 75F and sunny. Everything was lush and full into late spring. The sky was cloudless. After our week here last Feb. it was surprising to see this amount of green. We got to our farmhouse at 5pm, met Paola and her father, unpacked and decided to find a place to eat. April 25 is Independence Day in Sicily so everything was closed except a small restaurant. We ordered pasta, pizza, seafood, and much of the local wine. We finally got home at 10pm and crashed

4/26/2001
A lazy morning as everyone woke up late and got ready for the day. We had bought water and had leftovers from last nights dinner. The owners left us fresh oranges from the farm and Philip made fresh squeezed juice. We had coffee and sambuca as well. The day was overcast until 10am and then the sun came out. Looks like a great day as we prepare for a trip into town for a late lunch and food shopping. John and Cathy, Philip's ex-partner arrived at 4:30pm and by then we had done a shopping in town for dinner. I had the chance to find Dena downtown and finally meet the girl who helped me with my family records. I invited her up one night for dinner with her husband. We had a break during shopping and we stopped in a new internet cafe for cappuccinos and pastry. Internet access is $4.50 per hour and a cappuccino and pastry is only $2.00 total. By 8pm we were feasting on 4 cheeses, 3 types of olives, a roasted tomato dish, salad, pasta with a mushroom red sauce and way too much local wine and lemoncello.

4/27/2001
By midnight on the 26th we had eaten a late dinner and finished most of the wine and lemoncello. We sat on the front porch and talked into the wee hours of morning. It was a magical night as we listened to two owls off in the distance and I saw a shooting star fall over the sea. It had a bright yellow tail until it got low and then became blue and vanished.
Today started my first day adjusted to local time. Got up at 9am and had breakfast. I went and bought eggs from the neighbor's farm and also got some fresh herbs. Philip is preparing caponata; sautéed eggplant over pasta. The local food is so fresh, we are still snacking on red wine, breads, cheeses and olives. We got some fresh vine tomatoes that we are eating like fresh fruit. The farm has fresh apricots, lemons and oranges in season. I drove into town and we all browsed the stores. There is some excellent small shops with local art, clothes and jewelry. We are planning a day on the southern side to visit the Greek ruins. I hope to take a day trip to the Aeolian islands by hydrofoil to see Stromboli and Vulcano, cinder cone islands. Tonight is Nelson's birthday so we plan a little celebration. If the weather holds, tomorrow will be our first beach day so I am planning an early night. I got postcards today and it's time to finish them.

4/28/2001
Got up at 7am and finished my first batch of postcards and a fax to home and work. Made coffee and munched on what is becoming a buffet spread out on the porch; fresh fruit, squeezed orange juice, biscuits, toast, cheese, and eggs. I drove into town alone and got stamps and sent the faxs at Dena's store. I then napped until 4pm. Tonight's dinner is sausages, red peppers, pasta, green salad, and breads. We stocked up on the local red and white wines by using all our plastic bottles and glass jugs at the wine co-op. Rocco, the owner is fast becoming our new friend. Tonight looks like another late night since we also restocked on dessert and lemoncello. It's agreed that tomorrow, Sunday, will be a beach day regardless of the weather. With a 10am start time, I'll see tomorrow who is serious.

4/29/2001
With and early start, I explored the property behind the farm. Following a stream I came to a tangerine grove and waterfall. It was here that the farm collected mountain water in cisterns for irrigation. The hills around the orchard was covered in cactus trees, some over 10 foot tall. By noon we had eaten and we headed out east towards Messina. Taking the 'lungomare' coast road, we wound around to the deep harbor port of Malazzo where the ferries depart to the islands. We then drove through Messina and could see the toe of Italy across the straight where the ferries depart hourly for the mainland. We traveled south to Taormina, a resort village high up in the cliffs above the sea, with tiny one lane roads and tourist shops. We backtracked to Letojanni for a break at an outdoor cafe and then headed around and over Mt. Etna for the trip home. We passed through the mountain towns of Randazzo and Floresta at 3500 feet and had some awesome views of Etna with snow and hills covered in red and yellow wild flowers. We drove through Naso and down to the north shore passing through the cobblestone streets of Cresta back to Capo d'Orlando. Arriving home at 8pm we went into town for an 'early' dinner at Katsup Restaurant, where we has ravioli, gnocchi, pizza, and seafood. At 9pm till midnight everyone comes into town for dinner and entertainment and the public square was packed with people, locals and tourists. We finally crashed at home at 11pm.

4/30/2001
Monday was a late start day as this vacation seems to finally let me get into 'tempo locali' local time. Italians rise at 8am and shops and stores open from 9am to about 1:30pm. They close down completely until 4:30pm. From 7:30 till midnight they begin serving dinner. By noon Mark and I drove one hour west to the ceramic town of San Stefano. On my first trip here last year, I bought items based on one of the 5 town patterns and this time bought two mugs and two fruit bowls based on the same pattern. Getting back by dusk, we found John and Cathy preparing dinner with veal bruschetta, salad, pasta and more local pastry. Of course I stopped beforehand and refilled our jugs with 'vino locali' local wine. Paola stopped by to drop off faxs and give us tickets to the islands for tomorrow morning. The bus picks us up early at 7:30am. After much wine, cannoli and lemoncello, I headed to bed at midnight.

5/01/2001
Up at 6am with a quick shower, coffee, and a small pastry, we headed to the front gate and caught the shuttle bus to take us one hour west to the port of Milazzo. After picking up two other couples, all ten got to the dock at 8:45am for the 9:15 departure. The ferry boat trip was one hour to the first island, Lipari, know for its capers, early settlers, Greek and Roman influence and volcanic formations. A tour guide took us on a one hour trip and then we had an hour to explore the shops on our own. By 12:30 we departed Lipari and circled the island and headed for Vulcano, the second island of the seven Aeolian islands just off the north coast of Sicily. Vulcano hosts an active volcano that erupts every 125 years or so, the last time in the 1880's. After a five minute tour there was plenty of time to change into swimming gear and sample the hot mud baths, hot sea water baths and sulfur springs that cover the island in steam and foul sulfur smell. The local shops offer jewelry made from obsidian, a jet black crystalline stone as well as many mineral and gems. The locals sell pumice rocks from the pumice mine on the island. After a great lunch and shopping, the boat departed at 4:30 for another quick tour around the island and a return to Milazzo. The coastal route home was with a view of small farms, orange groves, fishing villages, and local farmers tending their crops on any an all available land. By 8pm we were home, sun burnt, tired, and just able to munch on leftovers, fruit, bread and wine before hitting bed by 10pm.
5/02/2001
Spent the early morning relaxing and then later took another trip into the town of Capo d'Orlando for food and shopping. By 2pm we were off to Messina to pick up Pio Conti at the bus station. Pio flew in from Rome to join us for four days. That evening we had dinner of fresh seafood and pasta as a fisherman from town drove up with fresh calamari and tuna.

5/03/2001
I was up at 6:30am and on the road, alone, by 7:15am. Heading west along the coast I traveled to Cefalu and then inland towards Caltanissetta. At the Resuttano exit I headed west to the village of Villalba, the birthplace of my grandmother Francesca Paola Restivo. Villalba is up in the hills and I arrived at 10am, following a tinker into town as he called out to the townspeople on a loudspeaker to come out and have their pots and pans fixed. The old men were sitting on every corner, watching the traffic and chatting. Women were shopping and doing laundry and the smell of cooking was in the air. Unfortunately I could find no one who spoke English and the Municipo was open but the town records clerk was away or not in this day. I headed out of town and up to the cemetery. Looking for the Restivo headstones I was again unable to find any. An old man, working in the field across the way offered to help and I managed to convey what I was looking for. I did note the name Immordino was very common here as Angelina Immordino from Villalba married Giuseppe LoDico, my great second cousin. It was their daughter, Angelina who has a chapel in Tinchi that bares her name.
Leaving Villalba, I drove back towards the town of Marianopoli. Arriving at 11:30am, the town's center streets were filled with merchants selling in an open air market. There was everything from men's suits to grains and spices for sale. By 12:15pm, just 45 minutes later the vendors had packed up and left and all the residents were shut away inside their homes as the town closed down until 3pm or so.
I found the Municipo and managed to hand the clerk the official birth certificates I had received in the mail months ago. The clerk got busy and began to pull the birth record books and make photocopies of my relatives born here. Michela then walked in and she was surprised I knew her name. Obviously she did not remember me and since neither of us could speak to each other, I drew out the family tree so she could understand we were great second cousins. She was still quite shocked I knew so much about her until she finally remembered my visit from last February and my brother John.
Armed with piles of photocopied records, I took a few photographs of the town and headed back towards the autostrada.
Leaving Marianopoli at 1:30pm, I headed down to the valley and across to the autostrada, knowing at the junction would be signs to Bompietro and Petralia Soprana. Seeing I was 12 kilometers from Bompietro, I decided to head up into the hills and find the town of my grandfather's birth. Passing through fields of wildflowers, orchards and farmlands it was easy to imagine my grandfather traveling this same route by horse or cart some 110 years ago. At the outskirts of Bompietro, I stopped and took pictures of the entrance of the town, up in the foothills at almost 700 meters. As I entered the town, the first street was named VIA LO DICO !
At the town piazza I stopped into a small tavola calda. I asked if anyone spoke English and they called out to a young man in the square named Rosemario. Together we talked and walked into the Municipo where I was able to find my grandfather's birth record. There were no photocopy machines but they were setup to copy all the info into a computer generated official document. I asked for two copies and the clerk asked for one US dollar with my signature on it as a souvenir. Rosemario and I then headed back to the tavola calda and talked to 2-3 old men about any memories of the Lo Dico's but all that was recalled was he was a 'barbiere' (barber).
After a few beers for their help I took more pictures around town, picked up some souvenirs and headed back towards the autostrada. Heading around the island by the southern route, all freeway, I arrived back in Capo d'Orlando by 8:30pm after 3.5 hours drive time. Everyone arrived back from the beach and we all headed downtown to Uletta Restaurant for a fantastic seafood and pasta meal. Tired and hardly able to stay awake we ended the night at midnight back home.

5/04/2001
Slept in late today. Mark, John and Cathy somehow got out early and headed back to Boston. I passed on the beach early but in the afternoon I went into town to exchange money, mail postcards, and pickup my laundry. By late night Philip prepared a chicken, lemon and capers dinner. After dinner was another late night of wine, lemoncello and sambuca.

5/05/2001
Another early start began with a breakfast of eggs and toast. The clouds grew dark and for the first time here, it began pouring rain in a thunder and lightening storm right over our heads. With a loud clap, we lost all power as we waited out the worst of the storm on the porch. As it lessened, we ran to the car between cloud bursts and was on the road by 9am heading for a day in Palermo. We arrived at 11am and parked near the waterfront. We walked along the streets viewing the numerous churches and building that showed the Moor, Norman, Greek, Roman, and Algerian influences. We then walked Via Roma, a street known for it's shops, open markets, and small cafes. By early evening we headed back and again went to Uletta Restaurant, arriving at 10:30pm for a late meal of seafood, pasta and meat dishes. We got back home at midnight with a plan to start off mid morning to take Pio to the Catania and head south to Agrigento.

5/06/2001
Up at 8 and out by 9:30am, we headed east on the autostrada towards Messina and then south to Catania. Yesterday's storm had left a dusting of snow on the top of Mt. Etna and the air was cool earthy and clear. The view across the straits from Messina to mainland Italy was breathtaking. We dropped Pio off at 11:30 and proceeded back west and inland towards Caltanissetta. We left the autostrada at the Agrigento exit and headed south towards the ocean. Agrigento hosts the Greek ruins in the Valley of Temples, built in 440 BC. They are said to be the best preserved examples of the Greek civilization, even better than the Parathion in Athens. We spent a few hours walking the ruins, the ancient necropolis and then headed closer to the sea to find a restaurant serving lunch at 2:30pm. We found a small cafe and lunched on pasta, salad and fresh seafood. We then headed back home, taking the autostrada for the three hour drive.

5/07/2001
I got up late, the sigh of a great vacation and after writing, reading and relaxing, let everyone go to the beach as I rested before my trip on Tuesday. Earlier I had bought some red, green and yellow sweet bell peppers, and while I had the house to myself, I prepared the peppers in garlic, onion and olive oil, simmering on a low heat. That night, Philip cooked sausages on the grill and with a salad we concluded a lazy day resting and sunning and eating and drinking.

5/08/2001
I was up at 6am and had coffee and a quick breakfast after showering. I packed a lunch of bread, cold cuts, cheese, tomato, iced tea and a some crackers. I filled my travel bag with maps, camera, film, and my family records and notes and left the house at 7:30am. I planned a trip to Petralia Soprana and Bompietro by the mountain route. Heading west towards Cefalu, I then turned inland and drove into the mountains towards Petralia. The weather was cloudy and cool and it rained lightly on and off. As I drove inland on S286 I rose in elevation from sea level to 1147 meters. I passed from sun to rain to fog to sun again as I traveled over hills, through farmlands and orchards. I went through Castelbuono and then Geraci Siculo until I reached S120 heading for the ancient fortress town of Petralia. Just two miles before reaching Petralia, I came to a small three house, one church town named S. Caterina LoDico !! I turned around and went down the cobblestone road and took a few pictures. In talking to one old lady sitting in front of her house I gathered the village was only but three houses, all run down and the old church, built in 1932 was nothing more than an old barn used by the farm. Obviously I now had some information to begin research on this saint and who she was.
Traveling on to Petralia Soprana, I entered the town on the one road for cars, wound up and around to the town square and parked on a small bridge. Walking back to the square, it became clear that this was the only road in town. All the other streets and avenues were only wide enough for walking on as the cobblestone paths, steps and arches wound over and around the entire village of 4000 people. Only later did I realize the small bridge I parked on was the remains of a Roman aqueduct built well after the town's founding in the 3rd century BC. I found the Municipo in the square and asked someone for 'nato' birth records. He took me up and over to a door and I managed to convey I was seeking a birth record on Ignazio LoDico, born about 1825; a guess on my part. The clerk found nothing in the book 1825, but he pulled out an index book from 1820-1840 and I found the two records I hoped to find. Ignazio LoDico, born in 1806, married Maria Albanese and had two sons, Francesco LoDico born 1832 here, my great grandfather and Luciano LoDico, born 1835 here, my great grand cousin. From this record I was able to unite both LoDico family trees that eventually resided in Marianopoli. I was given both birth certificates. My great great grandfather was also a 'barbiere' barber, like even my grandfather and Uncle Frank.
Leaving Petralia at 11:30, I headed towards Bompietro. Arriving just before noon, I parked just outside town, under a tree and overlooking the town, had my lunch. I watched a shepherd herding his cows, goats, and sheep up the road and past me to a higher pasture. I traveled through town, took more pictures on Via Lo Dico and found the cemetery, high up overlooking Bompietro. After much searching I still could not find a LoDico headstone or crypt.
I began to retrace my route, back through Petralia, until on the outskirts I found the cemetery. After a few minutes searching I found a LoDico crypt with about 10-12 markers bearing the LoDico name. Scattered throughout the rest of the cemetery were other LoDico's, mostly female, buried with their spouses.
Leaving Petralia and S. Caterina LoDico behind, I continued back on S120 and headed for Gangi. I went through Gangi and Sperlinga, a small town high up on the cliffs of a mountain, then through Nicosia. Heading east on S120 I again climbed up over mountains to Cerami at 970 meter and up to Troina at 1116 meters, where homes were built right in the caves in the rock face. Still higher and now cooler and wet was Cesaro at 1150. More herds of sheep filled the roads as I turned on S289 for the last 50 kilometers north to the sea. Without seeing another car for an hour, I passed through a protected forest of beech and popular as I rose in elevation to 1524 meters close to Mt. Soro. In the clods and fog I descended to the town of S. Fratello and eventually at 700 meters I broke through the clouds and into the sun. Below me was the Mediterranean Sea and at 2200 feet I could see Cefalu far to the west and Capo d'Orlando far to my right, close to 50 miles of shoreline. I descended quickly and within 45 minutes I was home at 6:45pm.

5/09/2001
Again, after a full day of travel, I slept in till around 10am. It was another warm sunny lazy day and I intended to take full advantage of it. Nelson, Susi and Philip prepared for a full day at the beach with lunches, coolers and Philip even packed a fishing rod. I held down the fort and agreed to drive down to the beach to pick them up by 3pm. A chore in itself. I ate a late lunch, finished reading a book I brought on the trip and dozed off on the porch. I awoke at 3:30 and raced down to the beach to pick up the gang. Philip guessed right that I had nodded off and slept past 3pm.
We headed back, relaxed and prepared to meet with Dena and her husband Salvatore for dinner in town. Dena had been helping me for months on the internet, write letters and ask for my family history and I wanted to thank her for her efforts. We met at Gulio's at 8pm for cordials and we got a chance to relax and get to know each other. Sal spoke no english but Dena, born in Milwaukee spoke both English and Italian well. At 8:40 we drove over to a restaurant, Dena made reservations at. We had pasta dishes, seafood, a great tossed salad and I had scaloppini (veal) with porcini mushrooms in a lemon and capers sauce. The local red and white wine was excellent and we finished the meal with lemoncello and grappa. Saying our good byes and thank you's, we left the restaurant at midnight and fell into bed.

5/10/2001
Into a second lazy day of rest before my Tinchi trip I was up late and had a brunch at 11am. Susi walked to town and Nelson and I drove in as Philip rested. We exchanged money for lira and then walked around Capo d'Orlando shopping until we met up with Susi. Heading back home, Philip was up and took the car in to shop for dinner. He returned with fresh pork chops, potatoes, and we had enough leftovers of pasta, salad, and olives to make another feast. Since we learned last night that Dena's husband Sal worked in our favorite pastry shop making the cannoli, we had made sure we had a great dessert of lemoncello and cannoli. It was an early night to bed as we all turned in by 10pm.

5/11/2001
Up at 6am I showered, packed and prepared for the long drive to Tinchi to visit Cappella LoDico. I had no idea how long it would take but I estimated a day to get there and a day to return so I prepared to stay overnight somewhere. I packed plenty of food and water and even my blankets and pillow as I did have a station wagon.
I got to Messina in an hour and boarded the car ferry immediately. I was in Reggio Di Calabria by 9am and on the toe of Italy. Taking the autostrada north to Salerno, the miles flew by and by 11:30 I had reached my cutoff to head east to the sea and up towards Taranto. By noon I had found the small road to Pisticci. I knew Tinchi was only 11 kilometers from there but it was too small for any maps that I had. I was deep into flat farmland. It was very hot and humid here. I was in the arch of the boot of Italy. This is farm country where the crops are wheat, grapes, and grains.
Traveling inland I soon spotted the signs leading into Tinchi. It was 12:45pm and as I approached the center of town, a stoplight, I saw a small building on the main street with a small bell tower and cross. It was no bigger than 6 foot wide and 10 foot deep. I parked and saw above the locked iron gate an inscription indicating 'Christo Re' and I knew this was the cappella. I could see inside the iron padlocked gate and glass doors, a small altar, candles, two Madonna statues and a few flowers. There were no inscriptions but on one wall was a small portrait of a woman, in short brown hair and a formal high collar dress. I must admit she looked like my sister Paula and my niece Jessica.
Looking around the outside, I finally parted some rose bushes and high up on the wall was the plaque dedicating the cappella to Angelina LoDico. At that moment, from across the street, children began filing out of what was the local school. A school bus picked up most and some parents picked up the rest as a local cop watched over the exit. Within 15 minutes all had left.
Tinchi is a very small town comprising of not more than 20 building around the stoplight. There were two tavola calders, one small grocery store and two other small shops. Only one bar was opened. I talked to a few local residents and was able to convey who I was and why there. One old man sat down beside me on a bench. I spoke little Italian and he spoke no English, but I conveyed who I was and why there. He was excited and motioned to the cappella and for me to take pictures. He understood a few of my gestures and I, his. After moments of silence, eventually he looked and said the word 'Nevada' and then 'Mississippi' as was his extent of the English language. Finally he looked at me and said "Bush". When I said I didn't understand, he searched for the word and finally said, "President Bush". I laughed and said "Si, George W. Bush". He smiled and repeated the name. I am sure he just delighted in saying "Bush". It was unbelievable. My favorite moment of the entire trip, sitting on a bench, thousands of miles from home and talking politics.
One woman pointed me in the direction of the new church in town and she seemed to say the padre was sleeping there now. I rang his bell with no luck, so I headed inland the 11 kilometers to Pisticci noting the climb in elevation and how difficult this trek must have been for Angelina to walk every day to attend church. I stopped by the roadside and ate lunch, drove through Pisticci and then returned back down to Tinchi. The town was still asleep and it was 3:45pm. I had an espresso and aperitif in the tavola calda for 1000 lira ($0.50) and tried the padre again with no luck. I took plenty of photos and also copied the inscription down. Hoping the photos from outside the glass door came out, I took one more look around and at 4:30pm considered the long drive home.
I headed back down the farm road to the 'lungomare' road by the sea. I figured I could drive a bit until I grew tired and then could find a pensione as I did pass many on the trip to Tinchi. By 5:30 I was on the autostrada back to Reggio Di Calabria and making better time than the trip up. The northbound lanes had many slowdowns and detours and much roadwork being done. The return trip had almost none and the trucks were far less. By 7pm I saw the signs indicating I was close to Reggio and I figured if the auto ferry was closed for the night I'd find a place close by to stay for the night. By 8:15 I was at the ferry exit and quickly I bought a ticket and was the last car on board for this crossing.
We immediately left port in Reggio and headed across for the 50 minute ride to Messina. Watching the lights fade on the Italy side and the silhouette grow on the Sicily side it was easy to reflect on the day's events and the scene before me. How many of my relatives took the same ferry trip, saw the same city lights of Messina and outline of Sicily from this view.
By 9:15 I was in Messina and heading for the autostrada. The traffic was heavy in the center but no one took the autostrada exit to Palermo and I flew home within one hour.
Arriving home at 10:30pm, I caught a late supper and shared my day with Philip, Susan and Nelson.

5/12/2001
Getting up with the squabble of birds outside my window, I stumbled out at 9:30am for a quick breakfast of coffee and toast. The sun was in and out and l planned a day of playing porch lizard, following the sun and laying around doing nothing.
By 3pm everyone but me went to town to shop and browse the stores. I agreed to pick them up at 4:30pm and we planned a dinner back at the same restaurant we went to with Dena. By 7:30pm we were downtown. I stopped in Mormino's store to buy a sweater for my mother and Cindi and talk to the owners as my mother's last name was Mormino. The son spoke English and indicated the family came from nearby Naso. He took us all through the store and after my purchase offered me three free gives 'Mormino to Mormino' as he so graciously indicated to me. I thanked him and we headed over to Gulio's for a quick aperitif and then on to the restaurant.
I ordered a large Sicilian style salad and an order of steamed mussels in lemon and a four cheese pizza. We all had two pictures of vino locali rosso (local red wine) and finished our meal by 10pm. A quick stop at Salvatore's pastry shop for my cannoli and we were home by 10:30pm.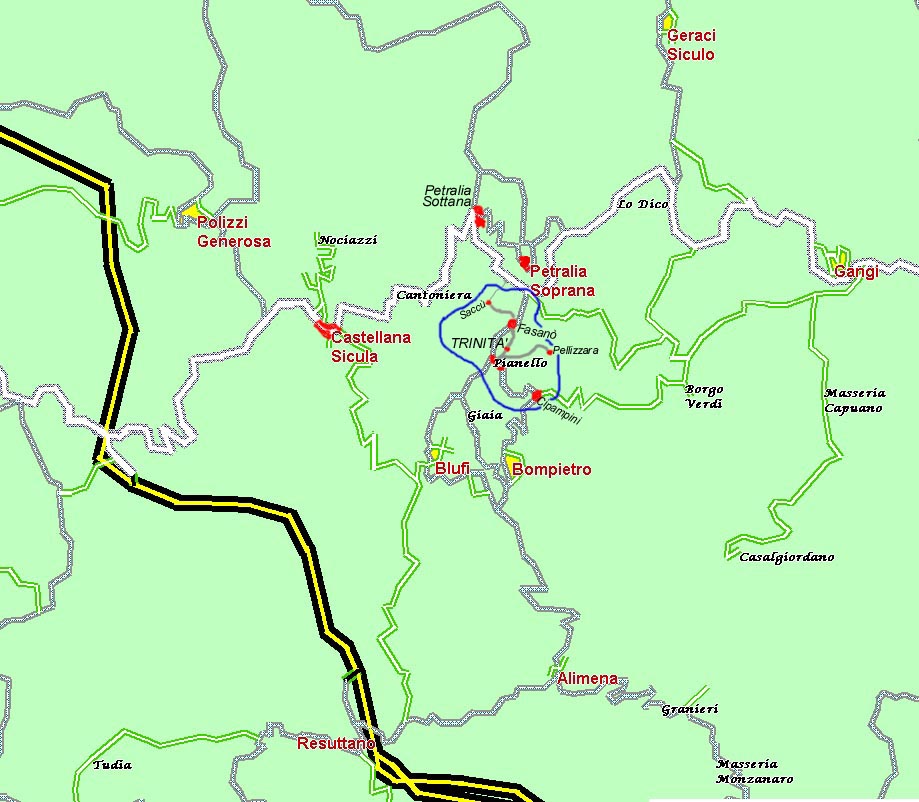 This is my journal from my second trip to Sicily.
For the next four years I researched my family heritage and in April 2005 returned to Sicily with a greater knowledge of my ancestry.
That story can be found in the main index.