The 1905 Mansfield KIMOS Season
April 9, 2015
The 1905 Kimos were considered by many to be one of the best Mansfield Townie teams of the early 1900s.
In 1905 The Kimo's played six games.
Mansfield 6 Sharon 0
Site: Cobb Field, So. Main St. Mansfield
Reggie Wills made the only touchdown [worth 5 points] on a double pass that went half the length of the field.
While Sharon spent most of their time in the Mansfield side of the field, Captain John Higgins play was instrumental on defense.
Attleboro 5 Mansfield 18
Ed Achorn scored twice and John Higgins once. Harry Vernon scored all 3 points by run.
Franklin 0 Mansfield 60
The 'boys' ran over a hapless Franklin team and completely drubbed them in one of their most lopsided wins.
Sharon 0 Mansfield 5
Ed Achorn's lone touchdown was the only score in the game.
Reggie Wills was hit hard in the back of his head and was benched.
Mansfield 0 Attleboro 0
Site: Cobb Field, So. Main St. Mansfield
The Kimos played Attleboro to a tie but not without controversy. It came down to time.
The timekeepers could not agree on the official time of the game. Eckblad of Attleboro insisted time was up at the end of the 2nd half.
Martin of Mansfield insisted 30 seconds remained. A compromise was made on 15 seconds more.
Attleboro refused to go back on the field and Kimos captain John Higgins walked into the end zone from the 8-yard line, for the apparent winning touchdown.
Later the touchdown was canceled by the referee, leaving a tie score.
Foxboro 0 Mansfield 5
Site: Cook's Field, Foxboro
On Thanksgiving morning November 30th, 1905, the Kimos played their main rivals, Foxboro.
The first half was played to a scoreless tie as both teams were evenly matched.
In the 2nd half, captain John Higgins returned a punt and the Kimos established field position deep in Foxboro's end.
After some superb plays and spirited rushes by the Mansfield Kimos, Higgins scored a touchdown with just a minute left.
The referee was Callahan from Norwood. The umpire was Curtin. Timekeepers were Scrymgeour and Lewis.
The linesmen were Fiske and Harrahan. Each half was 20 minutes long.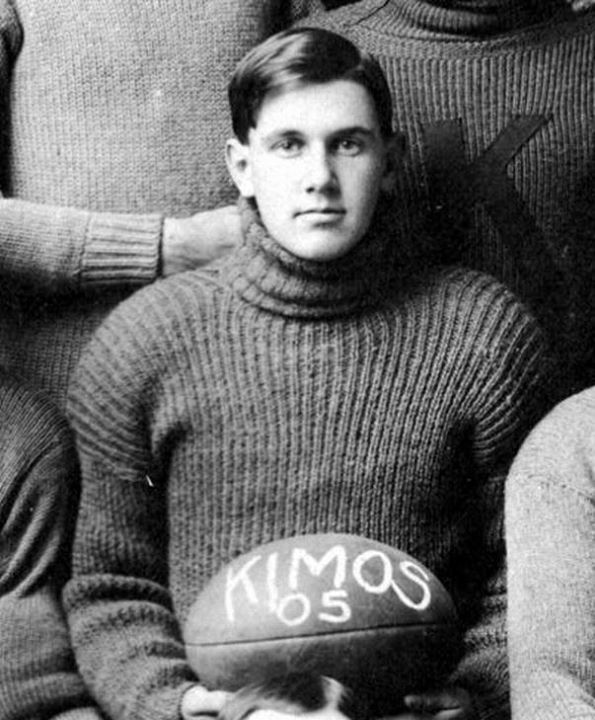 1905 Mansfield KIMOS captain and fullback - John Higgins