May 15th 1941
August 9, 2013

The spring of 1941 arrived amid a grim economic and global political landscape.
The financial footing of many Americans remained tentative as the nation continued to extract itself from the Great Depression.
Across the Atlantic, a vile German regime was tightening its grip on Europe. Czechoslovakia, Poland, Denmark, Norway, France, Belgium, Luxembourg, the Netherlands, Holland, Belgium, Norway and Yugoslavia were in Nazi hands.
Systematic brutalization of Jewish people was under way and the British House of Commons had been damaged in a German air raid.
On May 15, Luftwaffe captain and physician Sigmund Rascher requested permission to use prisoners at the Dachau concentration camp as test subjects for cruel medical experiments.
An ocean away, baseball remained the national pastime, helping ease the pain, creating a diversion from the rugged times.
In the Bronx, on the afternoon of May 15, the Yankees surveyed the field and contemplated the lackluster start of their 1941 season. Playing .500 ball and hanging onto fourth place, the Yanks had lost four straight games and eight of the past 10.
Joe DiMaggio, of all people, was mired in a slump. How the Yankee Clipper went, so went his pinstriped teammates. The .500 record fell, by most accounts, on the shoulders of the great center fielder.
DiMaggio hadnít hit consistently since the early weeks of the season. Heíd gone hitless in four at-bats the previous day against the Cleveland Indians and had managed only 14 hits in 72 at-bats since April 22.
The Chicago White Sox were at Yankee Stadium that May 15, jumping to a quick 2-0 lead before the Yankees even came to bat.
Chicago pitcher Eddie Smith was already working with two outs in his favor when DiMaggio stepped to the plate in the bottom of the first inning.
With Phil Rizzuto at second base, Smith fired a fastball. DiMaggio didnít waste his opportunity. His line drive landed safely in left center field: an RBI single.
The Yankees would lose the game, 13-1. But unknown to anyone on the field or in the stands, an unimaginably brilliant and never-duplicated, spirit-inspiring run on the record books had just begun.

source - Joe DiMaggio Official web site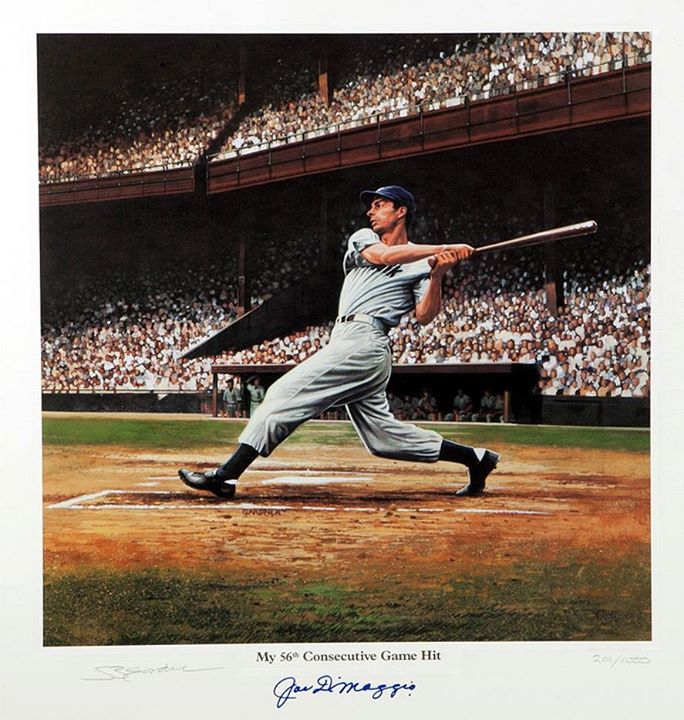 In celebration of Joe DiMaggio's 56 game hitting streak