Iwo Jima -65 Years Ago -Part IV
February 22, 2010

Friday February 23rd, 1945
At 8 a.m., on Feb. 23, a patrol of 40 men from 3rd Platoon, E Company, 2nd Battalion, 28th Marines, led by 1st Lieutenant Harold G. Schrier, assembled at the base of Mount Suribachi. The platoon's mission was to take the crater at Suribachi's peak and raise the U.S. flag. The platoon slowly climbed the steep trails to the summit, but encountered no enemy fire. As they reached the top, the patrol members took positions around the crater watching for pockets of enemy resistance as other members of the patrol looked for something on which to raise the flag.
At 10:20 a.m., the flag (54" x 28") was hoisted on a steel pipe above the island. This symbol of victory sent a wave of strength to the battle-weary fighting men below, and struck a further mental blow against the island's defenders.
Lusty cheers rang out from all over the southern end of the island. The ships sounded their sirens and whistles. Wounded men propped themselves up on their litters to glimpse the sight. Strong men wept unashamedly. Navy Secretary Forrestal, thrilled by the sight, turned to Holland 'Howlin Mad" Smith and said, "the raising of that flag means a Marine Corps for another five hundred years."
Forrestal was so taken with the fervor of the moment that he decided he wanted the flag as a souvenir. "The hell with that!" muttered Colonel Chandler Johnson when news reached him. The flag belonged to the Marine Battalion. He dispatched Lieutenant Ted Tuttle to the beach to scare up a replacement flag. "And make it a bigger one", he called, after Tuttle scrambled off.
When the 2nd Platoon of Easy Company returned from a patrol, Captain Dave E. Severance, the commander of Company E, 2d Battalion, 28th Marines, ordered them up the mountain. Just then Tuttle hurried into view. He was carrying an American flag obtained from LST-799. As it happened, this flag, which was 96" x 56" was a good deal larger than the one planted on the mountain. It had been found in a salvage yard at Pearl Harbor and rescued from a sinking ship on that day that will live in infamy.
It was a Navy tradition to present flags that had flown around Pearl Harbor on December 7th, 1941 to various warships as they were commissioned or refitted for duty from Hawaii. This is how this second flag got to Iwo Jima. This tradition continues today as many Naval war vessels now serving in the waters around the Middle East, carry flags that were flying in New York City and at the Pentagon on September 11th, 2001.
Of the five Mansfield boys on Iwo Jima, the last two: Guido Sherino 'Squinky" Amici was in the 28th Marines and Guido 'Guy" Liberatore was in the 26th Marine Division. Corporal Guido Liberatore lost his life on Iwo Jima on March 4th, 1945. Guido was awarded the Purple Heart. Guido Amici was with Guido Liberatore when he died.
There was a Western Union office in Mansfield and it was staffed by one man: Roy Foster Martin, who later became the town's Fire Chief. Roy had the job of delivering those telegrams to the families of those in the military who were wounded, dead or missing. The sight of Roy, off to get a priest or minister to accompany him on a call, was enough to send a shiver up the back of anyone witnessing his brisk walk out from his office.
Not once, or twice, but three times Roy knocked on the front door of the Liberatore home in Mansfield. Staff Sergeant John Liberatore, an Army veteran, serving in the European theater, was killed in action, in France, during the autumn of 1944. Upon learning the news, Guido had enlisted in the Marines to avenge his younger brother's death. Wilfredo 'Ozzie' Liberatore, now a veteran of Guadalcanal and Saipan had died in the Pacific. All three sons of the Liberatore's were now lost and Mansfield was in shocked silence.
Soon, two of the Liberatore sons were shipped back to Mansfield for interment at Saint Mary's Cemetery. Guido Liberatore was interred in Hawaii's 'Punchbowl' cemetery after the war. The town turned out to mourn it's fallen sons.
During the funeral, the father Felix Liberatore, overcome with grief at the lost of this three sons, suffered a heart attack. Helped to his car, he lingered at St. Mary's Cemetery long enough to hear taps being sounded. Taken home, he lapsed into unconsciousness and died. The Italian community and Mansfield had little time to recover.
The word 'Liberatore' in Italian means --'to free the oppressed; to liberate'
The six men of the 2nd Platoon of Easy Company , who participated in the second or "famous" flag raising on Mount Suribachi were composed of five Marines, joined by a medical corpsman. They were Sgt Michael Strank; Pharmacist's Mate 2/c John H. Bradley, USN; Cpl Harlon H. Block; and PFCs Ira H. Hayes, Franklin R. Sousley, and Rene A. Gagnon.
Mike Strank was born in 1919 in Jarabenia, Czechoslovakia. He was described by many as a Marine's Marine and that alone says it all. He was their leader and Sergeant. It was Mike who got the order to climb Mt. Suribachi. Mike picked his "boys" and led them safely to the top. Mike explained to the boys that the larger flag had to be raised so that "every Marine on this cruddy island can see it." It was Mike who gave the orders to find a pole, attach the flag and "put'er up!"
Mike's right hand is the only hand of a flag raiser not on the pole. His right hand is around the wrist of Franklin Sousley, helping the younger man push the heavy pole. This is typical of Mike, the oldest of the flag raisers, always there to help one of his boys. Two months before the battle Mike's Captain tried to promote him but Mike turned it down flat: "I trained those boys and I'm going to be with them in battle," he said. Mike died on March 1, 1945. He was hit by a mortar as he was diagramming a plan in the sand for his boys. Mike is buried in Arlington National Cemetery.
Franklin Sousley was born on Sept. 19, 1925 in Hilltop, KY. Franklin was a red-haired, freckle-faced "Opie Taylor" raised on a tobacco farm. His favorite hobbies were hunting and dancing. Fatherless at 9, Franklin became the main man in his mother's life. Franklin enlisted at 17 and sailed for the Pacific on his 18th Birthday. All that's left of Franklin is a few pictures and two letters Franklin wrote home to his mother: Franklin was the last flag raiser to die on Iwo Jima, on March 21 at the age of 19. When word reached his mother that Franklin was dead, "You could hear her screaming clear across the fields at the neighbor's farm." Franklin is buried at Elizaville Cemetery, Kentucky.
Ira Hayes was born on January 12, 1923 Sacaton, Arizona. Ira Hayes was a Pima Indian. When he enlisted in the Marine Corps, he had hardly ever been off the Reservation. His Chief told him to be an "Honorable Warrior" and bring honor upon his family. Ira was a dedicated Marine. Quiet and steady, he was admired by his fellow Marines who fought alongside him in three Pacific battles. When Ira learned that President Roosevelt wanted him and the other survivors to come back to the US to raise money on the 7th Bond Tour, he was horrified. To Ira, the heroes of Iwo Jima, those deserving honor, were his "good buddies" who died there. At the White House, President Truman told Ira, "You are an American hero." But Ira didn't feel pride. As he later lamented, "How could I feel like a hero when only five men in my platoon of 45 survived, when only 27 men in my company of 250 managed to escape death or injury?"
In 1954, Ira reluctantly attended the dedication of the Iwo Jima monument in Washington. After a ceremony where he was lauded by President Eisenhower as a hero once again, a reporter rushed up to Ira and asked him, "How do you like the pomp & circumstances?" Ira just hung his head and said, I don't." Ira died three months later after a night of drinking. As Ira drank his last bottle of whiskey he was crying and mumbling about his "good buddies." Ira was 32.
Rene Gagnon was born in Manchester, N.H. on March 7, 1925. He was the youngest survivor and the man who carried the flag up Mt. Suribachi. He was the first survivor to arrive back in the US. Rene was modest about his achievement throughout his life.
Rene is honored with a special room in New Hampshire's prestigious Wright Museum. Rene Gagnon died in Manchester, N.H. on October 12, 1979. He is buried in Arlington National Cemetery, the Flag Raiser buried closest to the Marine Corps Memorial.
John Bradley was born on July 10, 1923 in Antigo, WI. "Doc" Bradley was a Navy Corpsman who "just jumped in to lend a hand." He won the Navy Cross for heroism and was wounded in both legs. Bradley, a quiet, private man, gave just one interview in his life. In it he said . . ."People refer to us as heroes--I personally don't look at it that way. I just think that I happened to be at a certain place at a certain time and anybody on that island could have been in there--and we certainly weren't heroes--and I speak for the rest of them as well. That's the way they thought of themselves also."
John Bradley returned to his home town in the Midwest after the war, prospered as the owner of a family business -a funeral home, and gave generously of his time and money to local causes. He was married for 47 years and had eight children. While Bradley had a public image as a war hero, he was a very private person. He avoided discussion of his war record saying only that the real heros were the men who gave their lives for their country. The Global Media reported the death of a World War II icon on January 11, 1994 at the age of 70. But his hometown newspaper best captured the essence of Bradley's life after the war: "John Bradley will be forever memorialized for a few moments action at the top of a remote Pacific mountain. We prefer to remember him for his life. If the famous flag raising at Iwo Jima symbolized American patriotism and valor, Bradley's quiet, modest nature and philanthropic efforts shine as an example of the best of small town American values."
John "Doc" Bradley and Mansfield's Guido Sherino 'Squinky' Amici share a common link after the war. Both men ran a funeral home in their home towns. The Amici Funeral Home on Main Street in Mansfield was a family run business for many decades before it was recently sold to Michael Bolea.
By noon, the platoon was on the summit, taking down the first flag and preparing to unfurl the second.
AP photographer Joe Rosenthal missed the first flag raising. He wasn't going to miss this second opportunity. He had hastily joined the platoon and lugged up with him his cameras and film.
As Rosenthal noted in his oral history interview, ". . . my stumbling on that picture was, in all respects, accidental."
When he got to the top of the mountain, he stood in a decline just below the crest of the hill with Marine Sergeant William Genaust, a movie cameraman who was killed later in the campaign, watching while a group of five Marines and a Navy corpsman fastened the new flag to another piece of pipe. Rosenthal said that he turned from Genaust and out of the corner of his eye saw the second flag being raised. He said, "Hey, Bill. There it goes." He continued: "I swung my camera around and held it until I could guess that this was the peak of the action, and shot."
It was the last shot on the roll and Rosenthal thought he missed it.
He quickly reloaded and called for a group shot. The men of the platoon poised under the flag in what became known as the 'Gung-Ho' shot.
Rosenthal took 18 photographs that day, went down to the beach to write captions for his undeveloped film packs, and, as the other photographers on the island, sent his films out to the command vessel offshore. From there they were flown to Guam, where the headquarters of Admiral Chester W. Nimitz, Commander in Chief, Pacific Fleet/Commander in Chief, Pacific Ocean Areas, was situated, and where the photos were processed and censored.
"Here's one for all time!" exclaimed John Bodkin, the AP Photo Editor in Guam.
Later, when asked if the photo was posed, Rosenthal, not knowing that his now famous photo had come out, said "yes, it was posed"; thinking of the 'Gung-Ho' shot.
Saturday's newspapers reported the worse news possible on Iwo Jima.
3,650 Marines were dead, wounded or missing after only two days of fighting.
These were more than all the causalities on Tarawa.
These were almost as many on Guadalcanal in five months of jungle combat.
This was worse than Anzio or Normandy.
It was the bloodiest battle for the Marines since Gettysburg.
Americans recoiled in shock and horror.
On Sunday, Joe Rosenthal's photo ran across newspapers in America.
Millions of Americans were transfixed by the image.
People would always remember where they were when they saw the photo.
It became the iconic photograph of the Second World War.
It is the most reproduced photographic image in the world.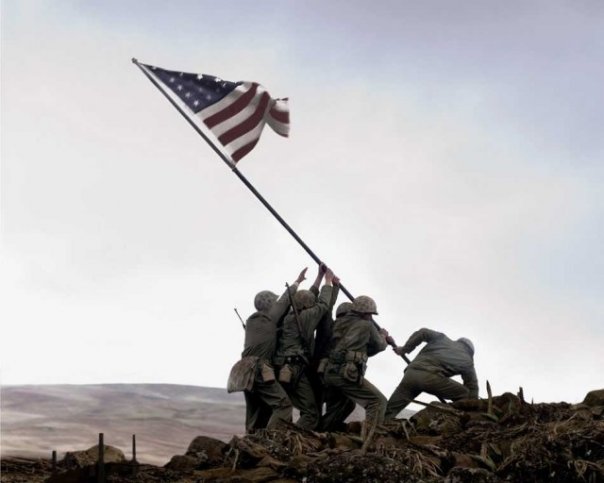 The Raising of the American Flag on Mt. Suribachi, Iwo Jima -February 23, 1945