MANSFIELD'S FIRST FOOTBALL CHAMPIONS 1922
APRIL 23, 2015

On September 14th 1922, Mansfield High School Football Manager Fred Bowers (MHS Class of 1922) issued a call for football candidates and thirty three young men reported.
Of these thirty three, only sixteen stuck the season out and every one of them received a letter.
Mr. John Levine, a former Yale half-back, was secured to coach the team. Manager Bowers arranged the schedule.
The scores resulted as follows:
October 1st 1922 at Fall River
MHS - 0 vs Durfee High of Fall River - 28
October 8th, 1922 at Attleboro
MHS - 53 vs Attleboro High School - 0
October 12th, 1922 at Mansfield
MHS - 61 vs St. Mary's High of Taunton - 0
October 15th, 1922 at Milford
MHS - 7 vs Milford High School - 8
October 21st, 1922 at Mansfield
MHS - 7 vs Dedham High School - 6
October 29th, 1922 at North Attleboro
MHS - 7 vs North Attleboro High - 0
November 5th, 1922 at Mansfield
MHS - 14 vs Durfee High of Fall River - 0
November 11th, 1922 at Norwood
MHS - 7 vs Norwood High School - 28
November 19th, 1922 at Mansfield
MHS - 33 vs Middleboro High School - 0
November 24th, 1922 at Taunton
MHS - 13 vs Taunton High School - 7
The game with Taunton on November 24th, Thanksgiving Day, which resulted in a Mansfield victory, gave the wearers of the green and white the Bristol County Championship.
The local Mansfield News summarized the victory as follows:
"They came, they saw, and they conquered; and they went too, but only with their captain on their shoulders, and howling loudly of their victory. Such, in brief, is the story of Mansfield's ripping, smashing uphill fight to a sweet football triumph over Taunton on Thanksgiving morning at Whittenton Field"
Both touchdowns were the direct result of Carl Anderson's polished football technique. The score which made Mansfield's team the Bristol County champions came late in the closing quarter, exactly 4 minutes from the end, when Anderson threw a twenty-five yard pass which 'Chick' Cavallo nabbed and ran with for three yards more. Only a few seconds later Anderson, with David, West, and Morse for interference, ran around left end eluding the entire 'Herring City' team on an eight yard run across the goal. Wilbur Johnson added a point by kicking a goal.
Great credit is due every player on the team, for without his aid, Mansfield would be checking up a loss. For Taunton, the work of Higginbotham, M. Cohan, and Tracy stood out above the rest.
The lineups:
MANSFIELD
C.R. MORSE - RIGHT END
S. DAVID - RIGHT TACKLE
F. FOX - RIGHT GUARD
F.K. BOWERS - CENTER
JAMES LODICO - LEFT GUARD
H. WEST - LEFT TACKLE
F. CAVALLO - LEFT END
S. DONLAN - QUARTERBACK
C. JACKSON - LEFT HALFBACK
A. ANDERSON - LEFT HALFBACK
R. PALLADINO - RIGHT HALFBACK
WILBUR JOHNSON - RIGHT HALFBACK
WILBUR JOHNSON - FULLBACK
CAPT. C. ANDERSON - FULLBACK

TAUNTON

HIGGINBOTHAM - LEFT END
F. COHEN - LINEBACKER
McCARTHY - LEFT GUARD
M. COHEN - CENTER
BOYDEN - RIGHT GUARD
HEMMINGWAY - RIGHT TACKLE
BLOOD - RIGHT TACKLE
WHEELER - RIGHT TACKLE
BARBLOM - RIGHT END
TRACY - QUARTERBACK
MASTERSON - RIGHT HALFBACK
McNELLEY - RIGHT HALFBACK
MAXWELL - RIGHT HALFBACK
KENNEDY - LEFT HALFBACK
McNELLEY - FULLBACK
CAMERON - FULLBACK

Score: Mansfield 13, Taunton 7.
Touchdowns made by C. Anderson, 2; Higginbotham. Goals from touchdowns made by Higginbotham, Johnson. Referee, Murch. Umpire, Beebe. Headlinesman, Owens. Time, two ten-minute and two twelve-minute periods.
During the 1922 season, Mansfield won seven out of ten games played and out-scored their opponents 202 to 77 points. Captain Carl Anderson led the scoring with 10 touchdowns and five goals from touchdowns; S. Donlan had 9 touchdowns; Wilbur Johnson, 4 touchdowns and 17 goals from touchdowns; D. Sheehan, 3 touchdowns; and R. Palladino, H. West, S. David and C. Jackson, one each.
The Mansfield line was one of the fastest and best in this vicinity, easily outplaying every line they went up against - even Norwood. The backfield was exceedingly fast and made several sensational plays.
The squad was made up of the following men: F. Cavallo, C. R. Morse, A. Anderson, H. West, S. David, H. Wallis, J. McDiarmid, J. Aspray, F. Fox, J. LoDico, F.K. Bowers, S. Dolan, R. Palladino, D. Sheehan, W. Johnson. C. Jackson, and Captain Carl Anderson.
Next year [1923] only Captain-elect S. David, Manager-elect James LoDico, A. Anderson, and C. Jackson will be left, but with a few huskies coming in from the Junior High, a good season is anticipated.
except from the 1922 Mansfield News
help from Lorrie Cotterill Renker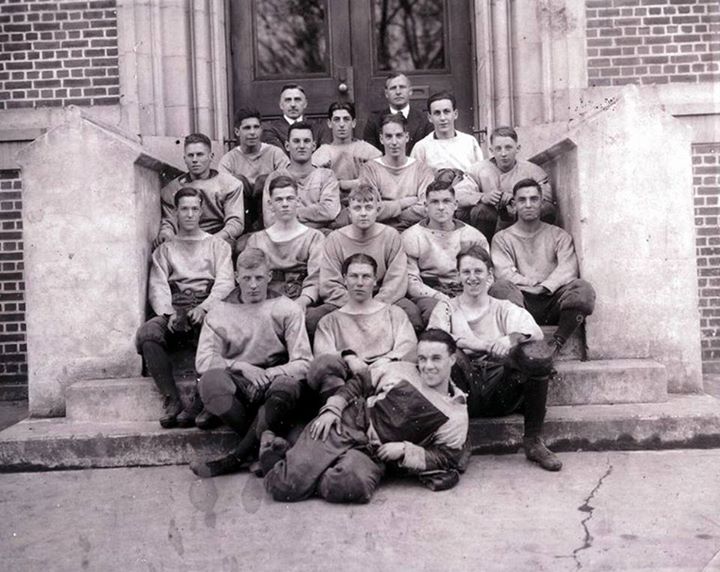 The previous year (1921) Mansfield High School Football Team