Mariano P. Carnevali (1916-1944)
July 25, 2014

Mariano Paul Carnevali was born in Mansfield, Massachusetts on June 13, 1916.
He was the son of Dominico & Antonia Alessandri Carnevali.
They lived at 31 Clinton St. in Mansfield.
The Carnevali home was almost diagonally across from my Newton Street home. As a kid I could walk out my back yard, cut through the Grover yard to Clinton Street, turn towards Pratt Street and walk just two homes up to 31 Clinton Street. What I remember most of the Carnevali house was two very large cement flower pots on the front set of steps. They had marbles embedded into the sides. I have to admit, on more than one occasion, I tried to pry out one but was never able to.
Mariano attended Mansfield schools through tenth grade, then left school to work for S.W. Card Manufacturing Company in Mansfield.
Mariano enlisted into the Army on October 26th, 1942 and trained initially at Camp Croft, South Carolina. In March of 1943, after completing Infantry training, he was placed with the US Fifth Army and shipped to the North African Theater of Operations.
PFC Carnevali saw continuous combat action in North Africa and on into Sicily in 1943. The US Fifth Army moved from Sicily into Italy in early 1944. In less than a year of overseas duty, PFC Carnevali had been exposed to a significant level of combat action and during that push into Italy with the Fifth Army, Mariano was killed in action on February 16, 1944.
His last letter home was dated February 13, 1944. In that letter Mariano mentioned that he had been hospitalized over Christmas and into early January of 1944, but did not mention any details.
PFC Mariano P. Carnevali was a very disciplined soldier. He was rated very high in combat skills and performed with excellence through his devotion to duty and marksmanship abilities. PFC Carnevali received several awards in recognition of these exceptional talents: The European-African Middle Eastern Campaign Medal; American Campaign Medal; Honorable Service Lapel Button; World War II Victory Medal; and Purple Heart.
He was seen by superior officers as a man of honor and an excellent soldier.
After the war, Mariano's parents petitioned the War Department to have their son returned to Mansfield, as it was their wish to have him buried with other family members at Saint Mary's Cemetery in Mansfield Massachusetts.
In later years Mansfield chose to honor Mariano P. Carnevali by naming a square between Pratt & Chauncy Streets in his honor.

Sources: The Mindset of a Patriot - Earl Mason, Military Archives, Mansfield News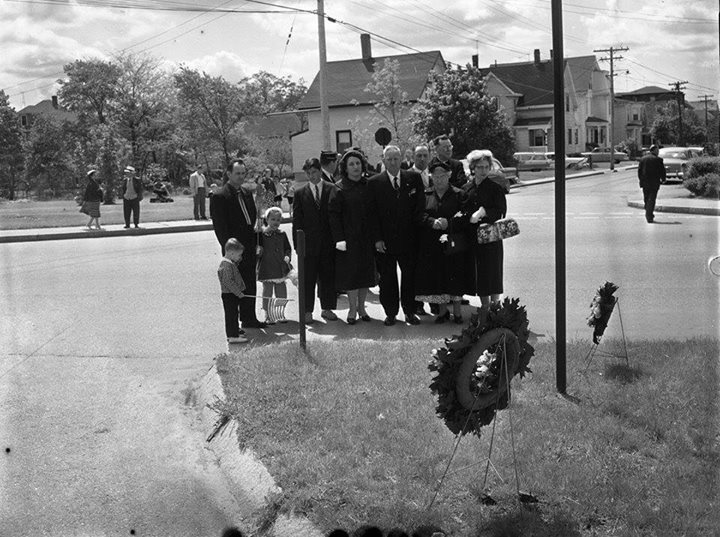 Dedication Ceremony - Mariano P. Carnevali Sq. - Pratt & Chauncy Sts.