April 12th, 1927 -- Opening Day -- 85 years ago today
April 12, 2012

The largest Opening Day crowd ever, an unofficial attendance of 73,206 fans, packed Yankee Stadium solid. Rows of men were standing in back of the seats and along the runways, and care had to be taken about overloading the stadium to comply with fire and police rules. The Yanks' management could easily have sold many more tickets for the standing room, but it just wouldn't have been safe.
While there would be no radio broadcast schedule of the Yankees' regular season home games in '27, as it was thought to detract from gate attendance, the front office made a lone exception for the opener. Graham McNamee of WEAF based in New York would do the play-by-play for both his station and WJZ radio beginning at 2:45 p.m., a full 45 minutes prior to the first pitch.
Leading off for the Athletics, Eddie Collins stepped to the plate, spat on his hands, and rapped each shoe in turn with his bat. Yank catcher Johnny Grabowski crouched down, and the game was now in the hands of the umpire.
Later in the first inning, Ty Cobb stepped up and batted third, which marked his first appearance in a regular season game wearing a major league uniform other than Detroit's. He was anything but over the hill, having batted .339 a year earlier in 79 games, and amazingly, had struck out only twice in 233 at bats.
When taking his stance at the plate, Cobb crouched slightly and held the bat low, his hands near his belt to slap at the ball. He did not grip the bat at the very end, instead he choked up and left an inch or two, and he also had his hands separated by the same type of distance. Cobb's logic was that it provided balance and control of the bat and it kept his hands from interfering with each other during a swing. Such was the way a contact hitter approached the game.
Anyway, there was really nothing doing in terms of action. Waite Hoyt sat down the Athletics with a scoreless first, much to the delight of the massive crowd.
In the home half of the first, Earle Combs, who batted .298 in the spring games on 14 hits, led off against Robert 'Lefty' Grove and did what he was supposed to do when he got on base via an error. When Mark Koenig promptly dropped down a sacrifice, the Kentucky Colonel made his way over to third base, at which point Babe Ruth came to bat in front of the home crowd. About the same time, out of nowhere appeared a man without his derby, and headed towards the plate. Mayor Walker quickly jumped over the rail and also headed towards the plate, and the Babe looked on rather quizzically.
Interrupting the game to a slight array of boo's, Walker shook hands with Ruth and then presented him with a silver loving cup for being chosen the most popular player by William Randolph Hearst's newspaper faction. The diversion finished after a brief few minutes, little batboy, Eddie Bennett shouldered the gift and took it away, and the Babe could get back to business.
On Opening Day and in the first battle, it was power against power with Ruth against Grove. The Babe and his various pitching adversaries usually squared off like two gunslingers standing all alone in the bare streets of a remote western town back in days of yesteryear. When he was up at the plate, Ruth wasn't afraid to strike out and he swung with everything he had, going for it all on every pitch. Fans attentively looked on in anticipation of the figurative failing of either man, whether it be the Babe swinging powerfully but missing a third strike and twisting himself into a pretzel shape or the pitcher standing despondently alone as a Ruthian blow sailed out of sight before he made his triumphant tour of the bases.
Ruth was known for being a top performer in season openers. In nine of them he had fashioned an impressive .412 batting average on 14 hits in 34 at bats, with four doubles and two home runs. Included in his past performances were a perfect five-for-five day with a pair of doubles in 1921 during an 11-1 victory over the Athletics at the Polo Grounds, two years later the Babe highlighted the opening of Yankee Stadium with a three-run homer during a 4-1 win over the Red Sox, and as recently as '26 he went three-for-six with a pair of doubles in a 12-11 victory in Boston. As usual, as he went, so did his team, and when Ruth played his teams had posted an impressive 8-1 record in openers.
In '27, the Babe was very eager for his first duel with Grove, for he had never hit a home run off the southpaw. Such a streak wouldn't end in this at bat though, because Lefty emerged victorious when he fanned the mighty Ruth on four pitches.
Another rather significant moment came in the home half of the second inning, when Tony Lazzeri came to bat. It marked the first time he stood at the Yankee Stadium plate since that miserable but memorable October day to end the '26 World Series. This time around he didn't strikeout, but he did pop out to third baseman Sammy Hale.
The game still scoreless in the top of the third, Hoyt faced his mound mate. Grove was one of the worst hitting pitchers in the league. In his first two years his batting record showed 148 official at bats with just 16 hits, good for a paltry .110 average. Additionally, almost half of the time Lefty struck out, posting an astounding 68 whiffs to his ledger. Predictably, Hoyt retired Grove easily to preserve his shutout.
The two pitchers matched each other's best for three frames, but Grove started to soften in the fourth when Koenig tapped in front of the plate, Lefty fielded the ball, and then he fired it to the fence in right for an error. The Yankees had a runner on third and their best scoring opportunity yet. Ruth followed, and in this dramatic moment could do nothing more than loft a high infield pop up to second. Lou Gehrig was next, and he walked down to first. After Bob Meusel hit back to the mound, the inning ended with Koenig being run down, and the Athletics avoided any damage.
When another Philadelphia scoreless fifth followed, Joe Dugan led off the home half. He plopped a ball into right field that Cobb came stumbling in just a half-stride too slow to field, and it went for a single. After Grabowski walked, it appeared that the Yanks might finally be able to solve Grove. Hoyt laid down a sacrifice bunt towards first, but Branom made a freshman mistake when he dropped the ball as he started to throw for the lead runner at third.
With the sacks fully occupied, no outs and the top of the order coming up, the Yankees had Grove on the ropes. However, it must be pointed out that if Cobb had been a little faster, Grove had a little more control and Branom had been more sure-handed, there would be no predicament. The old saying had it that baseball was a game of inches, and in this particular inning in the Bronx, it sure was.
Combs didn't benefit from any small measurement when he promptly smacked a double over leftfielder Bill Lamar's head to plate the season's first runs and give the Hugmen a 2-0 lead. When Koenig grounded out, Hoyt stayed anchored to third. With mates on second and third, Ruth gave it three hearty swings and struck out again, much to the crowd's dismay. Gehrig then smacked a grounder towards Collins at second, and when the ball took a bad hop right through his spread legs and rolled for a scratch double, it scored both Hoyt and the speedy Combs, which gave the hometown boys four runs on just three hits.
The way Hoyt was pitching, four runs looked pretty solid. However, there was still half a game left as they moved to the sixth inning.
Cobb personally led the Philadelphia attack in the sixth and flashed signs of his old self when he beat out a perfect bunt. Standing on first base, and the owner of a record 865 career stolen bases, it was very possible that Ty would take off for second.
It was an important part of the psychological warfare that made Cobb the player that he was. He had always been a quick thinker, and the Georgia Peach liked to believe that it was his constant threat to do anything and everything on the base paths that would disrupt pitching batteries and infielders by upsetting their concentration. It was one of the little things that Cobb had done throughout the years, getting his opponents to think that he knew more than they did, that many times gave him an advantage.
After Simmons' out, a short single by Hale sent Cobb racing over to third base where he slid cleverly under Combs' throw to Dugan, conjuring up memories of old time, station-to-station baseball. Ty then scored the first run of the year for his new team as Lazzeri threw out Branom. Hale also came around and scored when Gehrig muffed a throw to first, and it cut the New York lead in half, 4-2.
In the home half, the Yankees immediately set about to answer when Tony Lazzeri opened the frame with a double over the heads of both Cobb and Simmons in right-center. Dugan's bunt moved Tony up to second, and he then scored on Johnny Grabowski's single to left. Hoyt moved his battery mate up with a sacrifice, and Johnny scored when heralded frosh Boley, previously known in the minors as an exceptional fielder, failed to gather Combs' grounder to short, which upped the count to 6-2. When Koenig tripled to deep center, it easily fetched Combs with another run.
Once again it was the Babe's turn to bat, but instead of the big slugger strolling to the plate it was Ben Paschal taking his place. By reason of explanation, Ruth was removed suffering from a bilious attack, out "with a slight cold and fever" after striking out twice with men on base and popping out. Paschal, who two years earlier on Opening Day had a great game with a home run while the Babe was in a hospital bed, made good on his first action of the '27 season when he slung a single into right, and Koenig scored to make it an 8-2 game.
The latest outburst sent Grove to the showers after the frame ended. Manager Connie Mack summoned Jack Quinn from the bullpen, who, at age 43, was the oldest player in the majors and one of a few pitchers still legally permitted to throw a spitball. A veteran of 14 major league seasons, plus another two in the Federal League, Quinn actually had two tours of duty with the New Yorkers, a Highlander from 1909-12 and a Yankee from '19-'21.
The old pitcher did his job in the home half of the seventh. Unfortunately, he and his teammates were running out of time.
The eight runs were about all the Yankees would need, but the Athletics did manage to tally another run off Hoyt in the eighth. With one out, Simmons doubled inside third base and scored on Hale's single, and he attempted to stretch the scratch into a double but should have known better than to challenge Meusel's strong and accurate arm, a bullet that nailed Sammy at second.
Two straight Athletics openers had gone into extra innings, but for a third to do the same, the club had some ground to make up. In the top of the ninth, none other than Zack Wheat was sent to bat for the pitcher. It pitted the former Brooklyn star up against the former Brooklyn Schoolboy. The former Brooklyn star received a polite New York applause as he stepped in at Yankee Stadium, then Wheat promptly singled. He was allowed to steal second, but teammates Collins and Lamar could not budge him any further, and the game ended with Cobb in the on deck circle.
After they got started, the Yankees had no trouble shaking away the bad memories that lingered from the previous October. They stroked 10 hits, with four going for extra bases and Dugan's three singles leading the safeties, and behind Hoyt, who pitched smoothly all the way and had first-rate support, the Yanks pounded preseason favorite Philadelphia and their ace hurler, 8-3.

The Yankees started the season 1-0 and in first place.
They would never look back as they became the first team ever in Baseball to go wire-to-wire in first place.

--excerpts from "The 1927 Yankees: Anatomy of the Greatest"
April 27th, 1927 -- 85 years ago today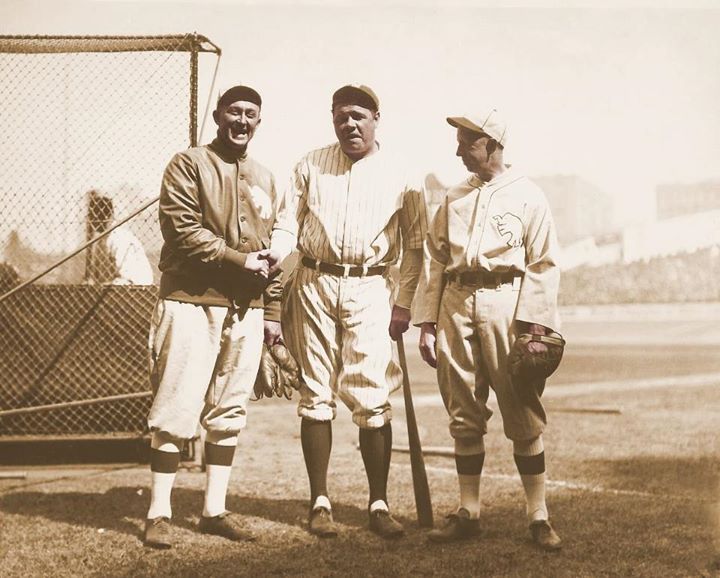 Opening Day 4/12/1927 (L to R): Ty Cobb, Babe Ruth, Eddie Collins