The Sicilian Vespers
February 24, 2010

In 1266 Charles of Anjou was proclaimed King of the Two Sicilies.
So began, an unhappy and unpopular rule by the French over Sicilians.
On March 30, 1282, Palermo was celebrating its festival Easter Monday.
As the celebration drew to a close, the faithful were ambling towards the Church of the Holy Spirit for its Monday vesper service.
They were joined by some French soldiers, also celebrating, but they had been drinking.
The soldiers flirted with the women. When a sergeant named Drouet pulled a young bride over to him, the husband attacked him with a knife. The other French soldiers jumped in to do battle.
The Sicilian men, all armed outnumbered the soldiers.
When the bell tolled Vespers, not one soldier was alive to hear it.
As bells in other churches pealed Vespers, crowds crying "Death to the French" filled the streets.
At least two thousand French –soldiers and civilians – were slain in Palermo that night.
Every stranger who could not pronounce the word for chick pea 'ceci' in Italian (CHEH chee), but instead gave the word a French pronunciation (SEH see) was slaughtered.
The revolution against the French Anjevins became known as the Sicilian Vespers.
As the French were driven from Palermo, some took refuge in the town of Sperlinga (the latin Spelunca, means "cave" ) as it was a natural fortress of stone and caves in the Madonie Mountains of north central Sicily. According to legend, the inhabitants of the Sicilian town of Sperlinga felt a great affinity towards their French conquerors. This affinity went so far, that they afforded the besieged French protection in their castle during the Vesper Revolution of 1282.
As the attackers wanted to know if the hated French were hidden in the castle, the castle's inhabitants threw small balls of cheese out of the arrow slits - and delivered the "proof" that harmless shepherds lived within the walls.
However, the cheese called 'Cavagna' wasn't made from the milk of sheep, rather from the milk of the French women.
Today, Sperlinga is famous for the following saying, engraved on its walls: "Quod Siculis placuit sola Sperlinga negavit" which translated, means "Sperlinga alone refused what pleased the Sicilians".

Les Siciliens [ENGLISH]
Lyrics: Etta Scollo + Music: Etta Scollo
Friends, lets carry on!
And ponder on the unholy fate
of these honest people,
whose freedom is at an end.
Let us take as
examples the most courageous
from the times of the Vesper,
resourceful young people
Les Siciliens, Les Siciliens
These resourceful people,
whose bravery had no value,
because in those days
one cherished the constricted and the ignorant.
On the peak of a mountain
in the castle of Sperlinga
they hid the French
with all their families
Les Siciliens, Les Siciliens...
From everwhere people sprung up,
a great many soldiers and officers,
even the judiciary called to them
in loud voices
"surrender yourselves, Frenchmen,
otherwise you are dead"
"There is no one here,
no one here is French"
answered the Friends in Sperlinga,
There are only sheep and goats everywhere.
Those who don`t want to believe,
should try these Cavagna*
Before these cowards are dead,
I will find no peace
and when it comes to pass,
I will get drunk on good wine"
so sang the triumphant soldiers
but then the tables were turned
Les Siciliens, Les Siciliens..
because it was the milk of the french women,
which saved the lives of their sons and husbands
the clever people of Sperlinga
made ricotta from it
and threw it down
on the soldiers at the gate
and even though no eyes saw this
and no ear heard
so the legend will have it
of the Sicilians and the French...
Les Siciliens, Les Siciliens....
(*"Cavagna" – a type of goats cheese ricotta)



Les Siciliens [SICILIAN]
Amici rimittèmunni
pensa ch'è mala vita,
di chisti genti boni
la libertà è finita.
Pigghiamunni l'esempiu
di sti gran curaggiusi,
de tempi di lu Vespru
picciotti spiritusi
LES SICILIENS, LES SICILIENS
Chist'òmini di spiritu
lu sò curaggiu 'un vali
ca di stu tempu vàlinu
li babbi e li minnali.
Nta 'n pizzu di muntagna
ntô casteddu di Sperlinga
ammucciaru i francisi
ccu tutta la fammigghia
LES SICILIENS, LES SICILIENS
d'ogneddirè partirunu 'n gran populu di genti
surdati 'n quantitati e sargenti
macari la Giustizia cci vanniava forti
rrinnitivi, francisi sinnunca siti morti
Cca nun ci su' cristiani
ca nun ci su' Francisi
jttàrunu sta vuci
l'amici spirlinghisi
cca ci su sulu picurari e
crapi d'ogni bbanna
ccu nun ci voli crìdiri
manciassi sta cavagna
LES SICILIENS, LES SICILIENS
"S'un mòrinu sti nfami 'un mi cuetu,
tannu di vinu bonu mi 'mmbriacu!"
Cantàvanu li surdati triunfanti
ma poi fineru li divertimenti
LES SICILIENS, LES SICILIENS
E fu lu latti di
li fìmmini francisi
a sarvaricci la peddi
a li figghi e a li mariti.
Li spirlinghisi sperti
ni fìciru ricotta
di sutta la jttaru
ê surdati misi â porta
e si l'occhiu un lu vitti l'orecchiu un lu ntisi
lu dici la liggenna de siculi e francisi.
LES SICILIENS, LES SICILIENS


Les Siciliens [ITALIAN]
Amici, rimettiamoci!
E riflettiamo sulla cattiva sorte,
di questa brava gente
la cui libertà è finita.
Prendiamo ad esempio
questi gran coraggiosi
dei tempi del vespro
giovani di spirito
LES SICILIENS, LES SICILIENS
Questi uomini di spirito
il cui coraggio non ha valore
ché a quel tempo valgono
gli stupidi e i minchioni
sulla cima a una montagna
nel castello di Sperlinga
(essi) nascosero i francesi
con tutte le loro famiglie
da ogni dove si partì un gran popolo di gente
soldati in quantità e sergenti
anche la Giustizia gridava loro a gran voce
"arrendetevi, francesi, altrimenti sarete morti"
-Qua non ci sono persone
qua non ci sono francesi-
così risposero
gli amici sperlinghesi
-Qua ci sono solo pecorai
e capre dovunque
chi non ci vuol credere
assaggi questa *"cavagna"-
LES SICILIENS, LES SICILIENS
-finché non moriranno questi infami non avrò pace
E quando accadra mi ubriacherò di buon vino-
Così cantavano i soldati trionfanti
ma poi il divertimento ebbe fine
LES SICILIENS, LES SICILIENS
Perché fu il latte
delle donne francesi
a salvare la vita
ai loro figli e ai loro mariti
I furbi sperlinghesi
ne fecero ricotta
e la buttarono di sotto
ai soldati appostati all'ingresso
e (anche) se tutto ciò non fu visto da occhio
ne udito da orecchio alcuno
lo afferma la leggenda dei siculi e dei francesi
LES SICILIENS, LES SICILIENS -
(* "cavagna" tipo di ricotta di capra.)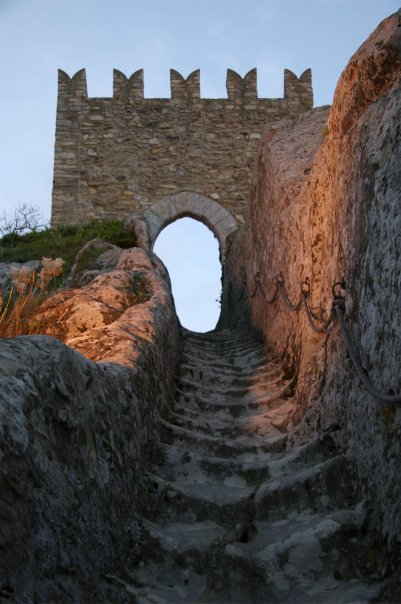 The Norman built Castle of Sperlinga, Sicily